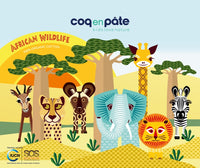 Raising Awareness
Since its creation in 2007, COQENPATE has been committed to raising awareness about some of the most pressing environmental and societal challenges we face today.
So we joined forces with the IUCN (International Union for Conservation of Nature) - the largest conservation organisation in the world. By giving part of our profits to their initiative SOS - Save Our Species, we are helping get money to where it's needed most. We've an engagement to give back £150 000 in five year. 
SOS helps protect from extinction threatened species, their habitats and the people who depend on them.
Drawing on IUCN's unique knowledge and expertise generated by its Red List of Threatened Species™ and its Species Survival Commission, SOS selects and funds the best wildlife conservation projects.
Created in 2010, SOS is already supporting dozens of projects around the world protecting hundreds of threatened species.