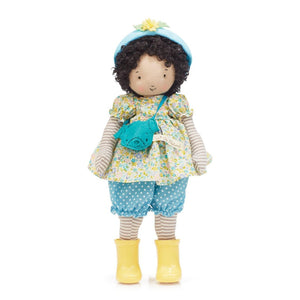 Phoebe Girl…Friend
Regular price $69.90 Sale
Her best virtue is patience. Pretty Phoebe Doll is dressed ever so cute in her two-piece outfit in sweet posies of blue, pink, yellow and green with matching polka dot blue bloomers. A soft blue felt hat with a yellow flower sit upon her licorice black curls, framing her sweet embroidered face.
Soft and huggable body with grey and white knit stripe legs and arms are perfect for snuggling. Phoebe's accessories include a pup purse with a "patience" tag to remind little ones of her very best virtue! With fun yellow vinyl boots with the carrot stamp of approval on the sole, Phoebe is ready for any adventure in style!
Comes packaged on a cardboard chair for display.
Dress up your pretty girl with custom doll accessories!
Doll Size: 15 Inches
Content: Cotton and Polyester, Vinyl Boots
Care: Spot Clean